Do short shorts = trampy? Does a short skirt = slutty?

The American Psychological Association (APA) defines "sexualisation" as  occurring when a person's value is believed to come only from their sexual appeal; their sexiness is judged according to a narrow ideal of physical attractiveness; or they are sexually objectified (that is, seen simply as an object for others' sexual use). This may have a serious impact on a child's cognitive functioning, physical and mental health, and on their sexuality.
As a parent and educator, this has concerned me enough to compel me to act.
Back in 2002, I founded a company, Enlighten Education, which now works with over 20,000 girls a year in schools. We encourage girls to be discerning consumers and critical thinkers and to find their own voice and power in a complex world. I've taken to the streets to protest against child beauty pageants. I've backed boycotts of stores that market Playboy-branded merchandise to kids. Back in 2007, when 60 Minutes did a feature story in response to the Senate's inquiry into this issue, I was presented as the "poster girl" for parents who were concerned that our culture imposes pressures on girls to be too sexy, too soon. Hell, I have even written two books aimed at supporting parents, and girls, to claim their own power.
So why am I not thrilled at the latest online furor over the mother's Facebook message to clothing store Target that slammed them for encouraging girls to look "trampy"? After all, over 57,000 people agreed with her. Why too aren't I elated by the subsequent media storm this has initiated, which has seen two different pairs of denim shorts held up as shocking examples of sexualized clothing we should all be morally outraged by?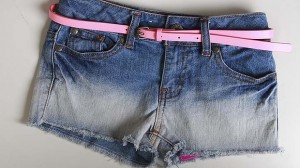 Because short shorts are not evidence of the sexualisation of our children, nor should children ever be labeled as "trampy". And the really important and valid discussions around the sexualisation of children we need to be having at the moment seem to be being hijacked by those that would have this issue used as an excuse to shame girls and women based on their clothing choices.
This diversion may have serious consequences. History shows us that the natural progression in making moral judgements about an individual based solely on their clothing is to then begin blaming victims for sexual assaults based on what they were wearing at the time. I have already seen a number of comments and posts on Facebook that suggest if little girls are attacked by predators, it would be reasonable for us to then question what they were wearing at the time of the assault. Not only is such thinking deeply offensive, it is misinformed and dangerous. All the research shows that those who would harm girls and women pick targets they perceive as vulnerable; as easy targets. They don't go around measuring short lengths or skirt hems.
Keep in mind too that sexual assault is a very real issue in our society and when we make statements that are in effect rape-apologist in nature, or that shame women based on clothing choice, the victims of these assaults hear that we think somehow it was their fault. That they asked for it. Their shorts were an invitation to judge them / insult them / harm them.
Truly, where do we think this policing of the length of a pair of shorts might end? Should girls and women be ashamed of their flesh? Do we want to keep them covered up from head to toe?
I absolutely agree that there are many marketers who are selling out on our children by pushing a product that does enforce an artificial, adult version of sexuality upon them. Should the shorts have been brandished with "Flirt", "Playboy", "Porn Star" or pouting lips (and make no mistake, I have seen products aimed at children bearing all these slogans) then yes, this would clearly be evidence of sexualisation.
And whilst I support any individual who wishes to speak back to corporates and demand more for children, I know that a path which invites the shaming of girls and women based on clothing choice, and that views garments that seem only to be guilty of perhaps "showing too much leg," is not a path we should be going down.
* This post was first published by The Hoopla, 15/8/12.