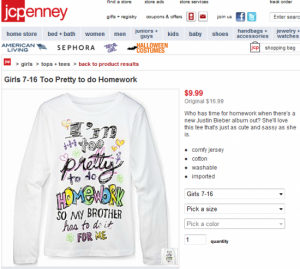 This is the product description for a Girls size 7-16 long sleeved t-shirt that American chain JC Penney was offering for sale on its website – under the "Self-Esteem" category (oh please). But wait, it gets worse: the t-shirt slogan reads, "I'm too pretty to do homework, so my brother has to do it for me."
So outraged was American mother and activist Melissa Wardy, that she took to Twitter and Facebook to begin a social network campaign to get the product pulled – and she won. This isn't the first time Melissa has taken action though. In fact, she is so committed to ensuring we "change the way people think about girls" and recognise that girls are "smart, daring and adventurous" that she started her own clothing line for girls with the aim of redefining "girly".
The Pigtail Pals-Redefine Girly product range includes my personal favourite – a shirt depicting a female carpenter with the slogan: " I broke a nail…"
There's also a shirt depicting a female Doctor with the slogan "Call me in the morning." Compare that to Nurse Barbie's message for girls as seen in a toy shop near you right now: "Get new shoes and call me in the morning!"(on the box of the current vintage Barbie range). Me thinks Nurse B may end up with a medical negligence law suit on her hands if she gives out that kind of advice to her patients. The dolls may date from 1961, but so too does the message which is a recent addition to the newly packaged Babs.
These are by no means isolated examples of products and campaigns that would have girls believe "Math class is tough!" (talking Barbie's first words to girls in 1992) or that our daughters should be more preoccupied with bling than brains: "Don't theorise, accessorise!" (slogan courtesy of the Bratz dolls). Shine reports that earlier this year the Internet was  a buzz over David & Goliath T-Shirt that read, in pink bubble letters, "I'm too pretty to do math." Then there was the one with "Future Trophy Wife" written on it. There's also reality shows like Australia's Beauty and the Geek, and a plethora of television programmes and films aimed at teens that send clear messages about what defines desirable – and it ain't the bespecled "brainiac" who hangs alone at the library and only finds love and popularity once she ditches the books and gets a make-over. For every smart, savvy Hermione, there seem to be at least 5 genuinely clueless-yet-cute Gossip Girls.
I have noted some big girls playing the "dumbing down" game in social situations too and laughed out loud at this cartoon featured in an opinion piece by Liz Jones at the Daily Mail:
I thought it fitting this week to hand my blog over to Melissa to allow her to explain why we should all be working towards offering girls far more empowering, inspiring messages than those that would have our girls pass on their homework to the lads…
Pretty's Got Nothing To Do With It
Tomorrow I send my child to her first day of school. Her first day of kindergarten. Her first day of formal education in a public school with years and years and years of learning to follow.
So I'll ask you kindly to get out of her way, JC Penney. You too, Orbeez and Skechers. Mattel and your Monster High, we've already had words.
My daughter will not be sent to school with the message from her parents that she is inadequate. She will not be taught hat she is incapable of learning, and mastering, what is taught to her at school. She will not be treated as though she were delicate. Tea cups are delicate, girls are not…
Despite the direct contradiction to their charity Pennies From Heaven, this shirt teaches girls to expect very little from themselves, that their looks supercede their intellect, and that 'being pretty' will get you by. Pretty's got nothing to do with school. Oh, and that little notion that the academic work should be left to the boys. In 2011, we are teaching the grand daughters of the Women's Lib movement to forsake their education and have their looks be their main focus.
So don't buy it, right? It is just one shirt. Right?
Wrong. WRONG.
It is the culture of consumer beauty and self-objectified sex surrounding our girls that drips right off a script page from a Kardashian-esque reality tv show. The message that beauty and sexiness measure a woman's worth, and that one can never be too young to focus on these things.
Exhibit B: Orbeez Soothing Spa with magic rainbow de-stressing beads, for that stressed-out 11yo in your life. Because, OMG, school is just like soooooo freaking hard! You can watch the commercial HERE.
Orbeez wants you to know that school is hard!
Orbeez wants you to know that foot spas help your hurting brain from all that learning!
Who needs hard things, like learning, when you can relax at the spa and work on being pretty. How I went through my entire girlhood in the absense of spa products and services usually reserved for adult women of a certain income and lifestyle, I'll never know.
Learning hurts! Pretty is fun!
My response? To do what I do best and offer girls a different message: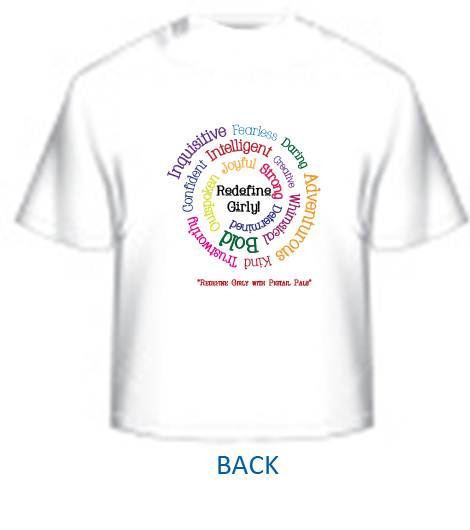 Melissa's inspiring designs for girls, including this latest response to JC Penney, may be ordered at her site: www.pigtailapals.com. Items may be shipped to Australia.