This week's blog is by Enlighten's Senior Presenter, and Program Director for Western Australia, Nikki Davis. You may read more about Nikki at our "Meet The Team" page.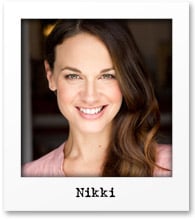 Dear Beyoncé
I have been a big fan of yours for about ten years now. In many ways I suppose I fit the demographic of a typical Beyoncé fan – female, old enough to remember Destiny's Child but young enough to still be able to take style inspo from your outfits. I am also an ex-professional dancer who cannot resist a great pop song with an infectious beat and an outstanding female vocal, even if the only time I break a sweat to it these days is on the treadmill.
When you released the B'Day album full of kick-him-to-the-curb anthems – climaxing with 'Irreplaceable' (yes I am that girl who always does the "to the left" actions when I sing along) – just as I was going through a break up with a cheating lying boyfriend myself you got me, hook, line and sinker. I became a true "Bey" fan. I now loved the heart-wrenching big belt ballads just as much as dance floor fillers.
And really, there is so much to love about you! You are beautiful – like crazy beautiful. You embrace your curves and flaunt them in leotards on stage. LEOTARDS! Who else looks fierce in a leotard? You've inspired me to sometimes wear the short tight skirts that the fashion world has us women believing belong only on young girls with slender, almost boyish figures. In fact you have told us honestly how hard you worked to regain your famous figure after giving birth to your daughter through exercise (take note all super model mums who cite "breastfeeding and good genes" – we don't believe you).
I admire that you have also kept some of your private life private (we have never seen a single snap from your wedding with Jay-Z), you stand up for what you believe in (standing alongside murdered child Trayvon Martin's mother and marching with the people in Manhattan for Civil Rights), you sing to sick children on stage (remember when you sang 'Halo' to little Chelsea James during your 2009 Sydney show to stadium full of crying fans – myself included?) and you speak out when it comes to equality (or lack thereof) between the sexes (more on this later).
And, boy can you sing! Your voice never ceases to amaze me. When you sang an accapella version of 'I Will Always Love You' during the Sydney performance of The Mrs Carter World Tour in tribute to Whitney Houston, I cried. Ok so I cry when it comes to you quite a bit – I told you I was a proper fan!
Ok gush over. You see Bey, I am having some trouble with some of your lyrics of late and well, I'm really struggling.
It began with your track 'Girls Who Run the World'… great sounding song! But what do you mean when you say girls run the world? Um, cos we don't. At all. Anywhere in the world. Here in Australia Bey, women make up more than half of the workforce but we still, on average earn 18% less than men. And anywhere from ¼ and up to ½ of all Australian women will experience some kind of physical or sexual violence by a man at some point in their lives. That's kind of the opposite of running things yeah? And let's not mention the countries in the world where women are not allowed to drive or go to school or are stoned to death for adultery.
But I know you know this stuff. You very recently wrote an essay for The Shriver Report's Special Report: A Woman's Nation Pushes Back From the Brink where you agree that we are kidding ourselves if we think we live in an equal society.
And this stuff matters to me Bey. I am a feminist. I also now not only work with young women in dance but also teen girls in schools. I work with a brilliant company called Enlighten Education, empowering young women and inspiring them to really find their true voices in this patriarchal world.
But you know what? Because I love you I have been able to move past these strange lyrics. In your documentary film you tell us that this song was intended as a love letter to women, celebrating their strength. OK, cool. Perhaps the lyrics were maybe more of a wishful thinking thing?
But Beyoncé, with your latest release I'm stuck.
I can overlook the insane amount of time you spend on the album telling us about your sex life with your husband. And it really is, like, a lot of time. Apparently your sex life is so good it involves kitchens, temporary memory loss and accidental damage to rare works of art. Sure, none of the couples I know who have been married for a while and have a small child seem to be going all night long but if that's the way it is for you guys then super!
I can also cope with the fact that you call your lady parts "skittles" (just) and dedicate a whole track to society's obsession with perfection whilst appearing in every single clip looking immaculate. But hey, I love the sentiment (that's one of the core issues I work with teen girls on) and to be honest I do love seeing your outfits/make up/nail art and admiring your beauty.
I want to say "She has done it again and pushed the boundaries even further this time with a new brand of arty-edgy-pop. Yippee!" And then cry happily at your talent and general amazing-ness.
But I can't.
And it's not even because the song "Flawless" is so perplexing with it's feminist themes including a brilliant sound bite from Nigerian Feminist Author Chimamanda Ngozi Adichie mixed in with you repeatedly saying "Bow Down Bitches" – perhaps you were ironically using the word bitch there? Or telling men to bow down and calling them bitches? Surely Bey, you had a grand plan mixing those two elements together? I'm trying to trust you there, I really am.
However, when I listened closely to 'Drunk In Love' and looked at the lyrics (as it is such a catchy track and was fast becoming a favourite) I went cold.
Beyoncé, why would you include your husband rapping lines about Ike and Tina Turner in this song? You have long cited Tina as one of your heroes (and you performed in tribute to her many times including at the "Tina Turner Tribute" in 2005 – another YouTube clip in which I, of course, cried.)
But then in this super sexy number about how much you have sex with your husband, you somehow let him start making comparisons with Ike and Tina – a notoriously violent relationship and one which almost killed her. I had to consult Google and find out if anyone else was having a major, stomach churning issue with this. I found that my disappointment (scrap that – my horror)  was shared by others. Holly McNish in her opinion piece for The Mirror writes:
Jay Z – What are you saying?
"I am Ike Turner…Baby know I don't play. Now eat the cake, Anna Mae. Said Eat the Cake, Anna Mae". Beyoncé mouthing the words behind him, smiling.
For those of you who, unlike me, are not obsessed with Tina Turner and did not watch the film of her life story – What's Love Got To Do With It – almost 100 times, this line is from that film…. Ike is jealous. He tells her to "eat the cake"… and when she refuses, he stands up, shoves it in her mouth and across her face. Her friend and backing vocalist tries to stop him. Ike threatens her, beats her and she runs away shouting to Tina Turner, "You are dead if you stay with him."
It's one of the most humiliating scenes in a film that charts the continuous rape and beating by a jealous and violent husband of his wife…"
Bey I don't know what to say. What the? Remember how I mentioned those statistics about women and violence? There is nothing sexy about that. It's criminal.
Holly McNish ends her piece on this with #Whatdoestinathink. I have a different question and it's for you Bey, and it's simply, WHY????
Actually no I lie – I have another question too…. I thought I could live without knowing this and still love your music but I've changed my mind… You write feminist essays but also shy away from the label of feminist – telling British Vogue in 2013 that the word "can be very extreme". (Even though it's correct definition – someone who believes in equal rights – is actually stated by Adichie in your song 'Flawless'). You flirt with feminist themes in so much of your music and then confuse us by continuously using terms like "bitch" and collaborating with male artists like Kanye West who are notoriously misogynistic.
So my question is, as a woman with the power to educate girls and women on what it actually means to be a feminist and why it is so important in this world, ARE YOU WITH US OR NOT?
I'll probably always sing along to "All the Single Ladies" (and I know many a feminist has much to say about this song too) but Bey, this new album is being deleted from my iTunes account.
Let me know if you have any answers for me and all the women out there who feel that casually referring to violence against women is not controversial or edgy but incredibly problematic and in fact, dangerous.
Yours truly
Nikki Davis – Feminist, Educator, pop music fan and serial crier.