Girls cannot be what they cannot see — please don't become a victim of the fashion wars.
The Sunday Telegraph's "Sunday" magazine ran with a back-to-school theme recently, headlined "Style up your school-run chic." The fashion spread inside was a 1950s-inspired shoot featuring "neat prints, demure hemlines and retro-inspired accessories". 
I truly hope the headline was an error and this shoot had nothing to do with showing mums how to dress for the school run. The thought of having to arrive at my children's school by 8.30 a.m. with coiffed hair, heels, pearls (also prominent in the spread) and pink lippy flawlessly in place would be enough to make me home school my kids. (And trust me, after spending the last six weeks at home with them, that is a not a threat I would make lightly.)
I note, too, that at this time of year the celebrity-watching sites have taken to critiquing the stars doing the kiddie drop-off with the type of enthusiasm usually only displayed by my son for his Nintendo. Toxic celebrity body-police site "The Skinny Celebrity" elicited 65 highly animated (read "frenzied" . . . what is it about these sites that make them so compulsive?) comments on Elle Macpherson's chosen outfit for the school run. Frankly Elle's look here is very similar to mine — running tights, sneakers, unbrushed hair, a big jumper or t-shirt. Okay, okay, I may not look quite as sleek when I pop this all together but it seems more realistic than the twin-sets. Agree?
Don't get me wrong, if I am attending a school assembly I will cheerfully run a comb through my mane and attend looking neat and tidy. But if I am just doing kiss-and-drop? Well, I have been known to do this in my Wonder Woman PJs should we be in a rush.
I recall a conversation with a friend I had once that left me speechless. She was lamenting the fact that she was getting increasingly anxious about getting dressed to take her children to their private school as she never felt she could quite pull off the designer look the other mothers seemed to do so effortlessly. "Even when I do kiss-and-drop, I know I am expected to look good from the neck up. I feel pressure to get my hair just right and to have the latest designer sunnies." Oh. My. Goodness. What hope do our girls have to keep the ranking-based-on-looks game in check if even the big girls are engaging in it?
Please — don't buy into this game. Wear what seems appropriate and makes you comfortable. Don't comment on other mums and what they are wearing. Trust me — no one wins the compare and despair game.
Sign of the times?
I took my 11-year-old daughter, Teyah, into Jay-Jays to buy a new t-shirt. I was all ready to be outraged at inappropriate slogans as I have seen some shocking slogans in stores that target tweens and teens in the past (think Jay-Jay's 2008 misguided "Little Losers", which included "Miss Wasted" and "Miss Bitch"). I have to say, I was  pleasantly surprised at how empowering some of their latest styles are!
Their new "So-so Happy" range directs a percentage of profits to the awesome Reach Out, an organisation aimed at supporting young people with a range of mental health and wellbeing issues. "So-So Happy" slogans include "Free 2B Me" (Teyah grabbed this one) and cool fundraising "Reach" wrist bands also sit at the counter at a very reasonable $2 (yep, we will have these, too, thanks).  Jay-Jay's other ranges include a singlet with the slogan "Are you afraid to LOVE? No one is going to love you if you don't love yourself." This message may be a tad threatening for my liking (no one is going to love you?) but hey, I can see the intention is good.
The most interesting part of this shopping experience was when I spoke to the manager at the Castle Hill store, Jodie Souter, and asked her if the shift towards slogans with more positive messages was a deliberate one or if I had perhaps just shopped on a good day. "We used to market a lot more sexy type slogan tops but frankly they didn't sell very well," she told me. "This new approach is flying out the door. We have noted a big jump in sales with the more empowering gear."
I didn't examine all the products in the store and am by no means endorsing this retailer, though I can't help but think this may be a sign that consumers have reached tipping point and we are no longer buying into labels that sell out on our kids.
Heads up other teen brands!
Hating this Valentine's campaign
My Victorian Enlighten Education team member Catherine Manning is the powerhouse behind Say No 4 Kids (not to be confused with "say no TO kids", a slip of the tongue I once made that had all of us Enlighten mummies in fits of laughter). This nonprofit grassroots movement  is encouraging everyone to sign a petition to have pornographic material removed from the view and access of children and young teenagers. As Cath says, "If cigarettes can go back behind the counter, why not porn?" Not happy to just stop there, Catherine recently began lobbying her local chemist chain store, which has decided to promote the sale of perfumes for Valentine's Day by using the language and imagery of pornography. Catherine explains the issue best in her email to me: "I was really shocked that this was deemed appropriate. The young female sales assistant working at the store said she felt extremely embarrassed and upset, and had complained to head office to no avail. She said all they needed was a red light hanging from the ceiling." Cath called it harassment, and she's right.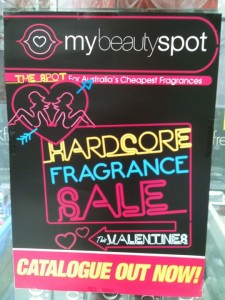 Call 03 9462 9111 to register your complaint. Tell My Chemist that "hardcore" doesn't sell perfume, and boycott their stores until they withdraw this offensive campaign.
The standard we walk by is the standard we set. Perhaps the marketing crew at My Chemist needs to have a chat to the team at Jay-Jays?
A new body does not equal a new life
I was incredibly saddened to hear that 23-year-old former German Big Brother contestant/porn star Carolin Berger died after her sixth breast enlargement surgery. Sky News explained: "She went under the knife for the last time at the Alster Clinic and was having 800g (28oz) of silicone injected into each breast. But her heart stopped beating during the operation. She suffered brain damage and was put into an induced coma." What a waste. It made me want to revisit an earlier post of mine, The Reality of Cosmetic Surgery. In this post I shared my own battle to accept my body — scars and all (for my readers who may not know, I received third-degree burns on my right shoulder and arm from an incident in my childhood). My concluding words in that post ring as true as ever:
The power of words to heal is something we should all take to heart and remember in our relationships with the girls in our lives. Cosmetic and plastic surgery may appear to promise happiness and success, like we see on reality TV, but it can really only alter our bodies. It's the words we use to talk about ourselves and one another that have the power to truly heal our souls, and to change lives.
I'd love to know what has got you thinking and going "MMMM . . ." this week.