A number of innovative schools and gifted, intuitive psychologists have crossed my path of late – all seeking out ways in which they can best assist the girls they care for to develop a positive body image and respond intelligently to our toxic "girl hating" culture.  
Firstly, I have thoroughly enjoyed Professor Martha Straus' seminal work "Adolescent Girls In Crisis – Intervention and Hope" ( 2007, published by Norton). Here is a small taste: my abridged version of her stunning "Ten Tips For Working With Girls":
1. Make and keep promises.
2. Admit your mistakes and apologize.
3. Hold hope – be a holder of hope for the future.
4. Trust the process – beware that our desire to be transformative in some way does not come across as criticism or disrespect (don't be just another adult who knows best).
5. Identify choices, ask for choices, take joy in choices – frame in choices eg: is this what you want?
6. When they're at a loss for words, guess and guess again – many teen girls remain concrete in their reasoning and have a limited vocabulary for expressing their feelings so we must frame for them eg; I feel really angry about this – do you?
7. Base expectations on developmental age, not chronological age – they may have adult sized problems and only child like strategies to fall back on, they may be overwhelmed by expectations they consistently can't meet.
8. Build Teams. Find connections for them – other adults they can turn to, peers etc
9. Empathy, empathy, empathy.
10. Don't underestimate your role in their life – adolescent girls want to be seen, heard and felt.
I particularly LOVE this quote:
"On my best days, I help adolescent girls find their 'selves' in the midst of a cacophony of other competing voices – parents, grandparents, teachers, friends, celebrities, and the loud insistence of popular culture. I know that clear speaking in therapy serves as a model for speaking truth everywhere. Seeing, hearing and feeling my best voice also strengthens me, and the connection between myself and the girls I work with."
Oh yes! This is exactly how I feel after working with girls in our workshops.
In March Sonia Lyne (Enlighten Education's Program Director, Victoria) and I travelled to Perth to work with all the girls (Year 7 -12) from St Brigid's Lesmurdie. The school were keen to establish a whole school approach and incorporated an event for parents, as well as a link with the wider community via the launch of Women's Forum Australia's BRILLIANT publication Faking It. (EVERY school should have at least one copy of this groundbreaking yet highly accessible research as a teacher resource!).
PDF copy of the full week's program – "Celebrate, Challenge and Change at St Brigid's": ee_stbrigid_a4broch_hr.pdf
The results were fabulous – so many girls were informed, inspired, understood and (re)connected. One of my personal highlights was the Movie Night. I was touched that almost a hundered girls arrived (in their PJ's) to watch a film with Sonia and I, eat popcorn, and generally be silly.  A simple night. All about celebration.
Their school Principal, Ms Amelia Toffoli, was there amongst it all…how brilliant! In fact, many of the teachers were very actively involved. All embraced wearing our  hot pink "Princess Power" bands ( aimed to reinforce the messages each of our workshop explores). Even the Head of Senior School, Mr Jim Miller, wore a hot pink band too. Teenagers yearn to connect emotionally and feel like they belong not only to a family, or to a friendship group, but to a wider school community. 
I arrived back home absolutely exhilarated. 
Equally as exciting was the invitation to work with the Years 5 and 6 girls at St John Vianney's Woolongong.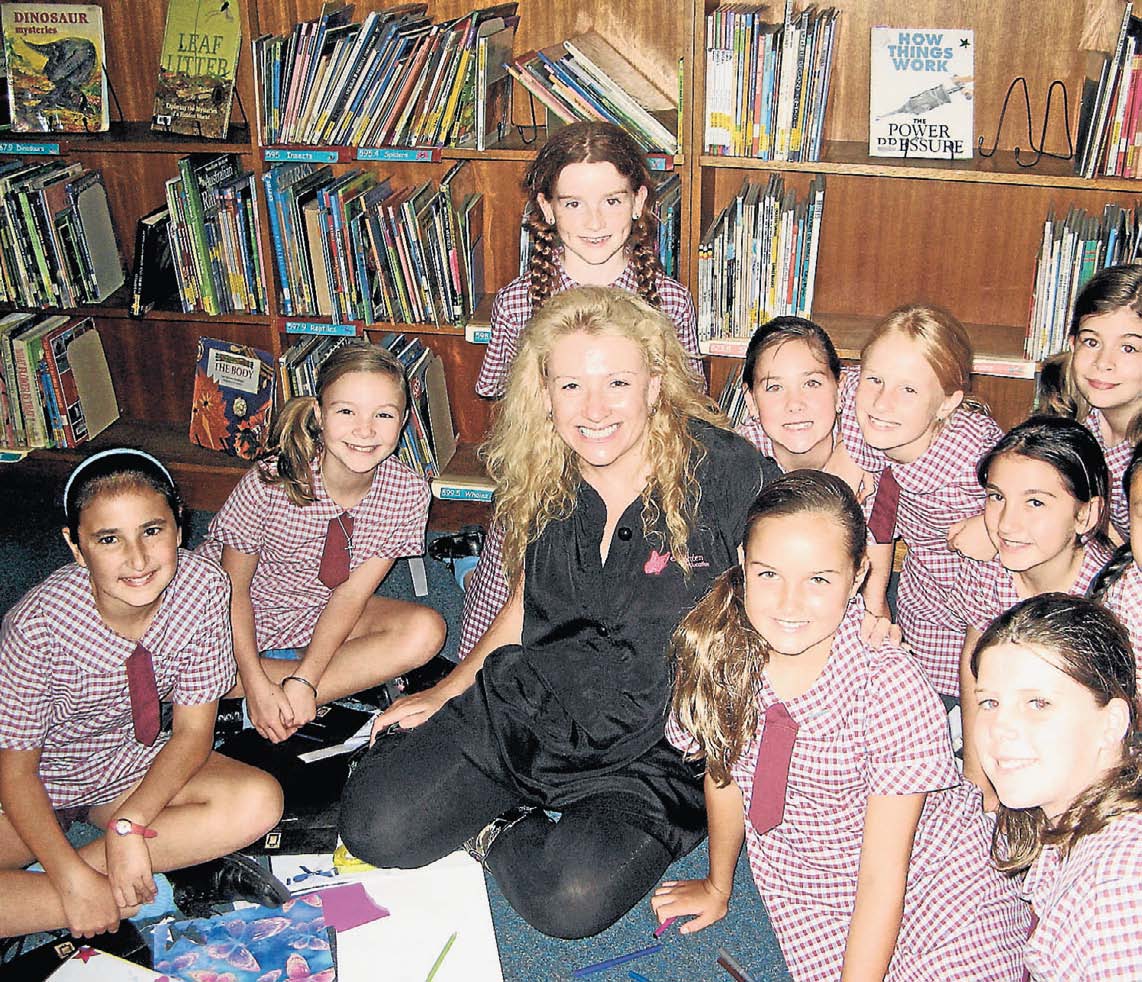 Enlighten has never worked with such young girls before, however, their school executive insisted that they wanted to be proactive and support their girls before the real crises of adolescences overwhelmed them. I found the girls  so incredibly enthusiastic and simply delicious! The local press did an excellent article on the event which really highlights why special initiatives are so valuable – open this if for no reason than wanting to see these gorgeous girls' smiling faces! May I say it again – THEY ARE YUMMY!
Illawarra Mercury – 1/4/08 : iq-story-on-body-image.pdf
I cannot let the opportunity pass to share the feedback Fran Simpson, the school's Religious Education Coordinator, provided us with:
"Dannielle performs magic! She is a fairy godmother to all those sleeping beauties sitting in classrooms and in playgrounds. She takes the girls on an inner journey of self discovery in a very short time…it is one very magical day filled with sparkle and glitter. Dannielle's gentle and loving touch coupled with her insights and expertise allowed each girl to soar to new heights. I love what Enlighten Education did for the girls. It's amazing. The Enlighten program fits all girls needs perfectly. Enlighten Education is the most valuable educational workshop I have EVER used."
I love this work! I love being a Fairy Godmother!
Finally, kudos to the Victorian Government who are offering secondary schools positive body image grants of up to $5,000 to support them in undertaking and promoting activities with young people.   
The Grant guidelines not only provide an insight into what the funders are looking for in terms of accountability and sustainability, but to the types of initiatives that generally work best within the school context:
programguidelines_positivebodyimagegrants08.pdf
Applications for this close on April 18th.