Back in 2006 we had the Senate Enquiry into female participation in sport. The enquiry concluded, amongst other things, that female sportswear might be a deterrent to participation.
The Daily Telegraph offered the following interviews with key participants:
ACT senator Kate Lundy, deputy chairwoman of the Senate committee that produced the report, said sports should do a survey of their women participants to see whether their uniform policy was suitable. 'The main problem people expressed here was a risk of teenage girls being turned off sport because of the types of clothing they're required to wear,' she said. 'It is a body image issue on one side, but by having a bit more flexibility with respect to uniforms, you can help support young women in improving their body image. If a girl is more comfortable playing in shorts and that will keep her in the sport, let's go with that.' Australian netball team co-captain Liz Ellis told The Daily Telegraph while fitted body-suits were good to play in because they kept players cool, young girls should play in whatever made them comfortable. 'It would be great to see sports clubs look at their dress codes, for teenage girls, but especially for young women of the Muslim faith,' she said. 'Anything to promote young women to stay in sport would be positive."
Have sportswear manufacturers cleaned up their act and focused on producing sportswear that is flattering, comfortable and practical? Are we encouraging our girls to get out there and get involved? Is this really just old news?
Recent sportswear campaigns and events both on and off the field clearly show this race has not yet been won.  
The following ads are for the Skins range of sportswear for women – can you believe these slogans?
"Men will love you, women will hate you. Lucky you're not a lesbian. Skins delivers immediate results for the woman who wants to look and feel like a complete bitch."    
Then there's:
"Get a body to die for. And watch women queue up to help with your funeral arrangements. Skins are perfect for the woman who loves the feel of claws sticking into her back."  
Or how about:
 Note the line: "Get the body every other woman would love. To spit on."
My Program Director for Queensland, Storm Greenhill Brown, originally pointed these ads out to me. As Storm laments, the emphasis on obtaining the PERFECT body is ugly enough, but pitting woman against woman? Grotesque. 
Need more? What about the Brooks Sports wear ad that promoted the company's support of breast cancer (a great cause) but did so in an ad featuring two female runners with their breasts bouncing and the caption – "Nice pair!"   
The clothes may not be revealing, but the advertising campaigns certainly are – play sport just to look hot, hot, hot. These ads feed the very real risk of exercising excessively as a means of controlling weight.  Research clearly shows excessive exercise and eating disorders go hand in hand. These ads also alienate women who may not be comfortable with ruthless competition, nor with being viewed as just a pair of tits in sneakers.
And what about the treatment of the trailblazing Rebecca Wilson on The Footy Show last week? Rebecca is the first female panel member to join the traditionally blokey show. A good move from channel 9 to add her expertise – particularly when football generally is trying to reclaim its female fan base after a series of disgraceful incidents involving players indiscretions over the last few years.
So how was she welcomed to the team?  
Sam Newman used a staple gun to attach a cutout picture of Wilson's face to the forehead of a mannequin. The life-sized doll was dressed in nothing more than a sheer, skimpy, aqua bra and underwear set. Samantha Lane from fairfax media recounts: "Inspired by a letter published in this newspaper's Green Guide section that discussed what Wilson wears on Footy Classified, Newman made clumsy attempts to dress the mannequin but mostly he manhandled it. He flicked the top of the knickers, he put his hands squarely between the doll's legs and he thrust it into the face of Craig Hutchison, who sits alongside Wilson on Monday nights. It was violent and vulgar."
And this in a climate where a DVD was recently produced and launched with great fan fare for AFL players to help them develop their respect for women! Melinda Tankard Reist spoke for many women when she expressed her dismay over the need for such tuition:
So, it has come to this. We have so failed in the very basics of civilised human interaction that the Australian Football League has been forced to hire a swag of actors and a film crew to make an interactive DVD to help players understand that perhaps it's not a good idea to pretend to be your best mate so you can have sex with his girlfriend. "R-E-S-P-E-C-T: Let's spell it out together, boys!" The AFL wants to help the lads recognise that taking advantage of a woman who's had too much to drink, doesn't rank as the noblest decision they could ever made. "C-O-N-S-E-N-T: Shout it out for me, boys!"What's next: teaching men not to bash women over the head with a club and drag them into a cave by their hair?"
Seems Sam Newman might need to spend the night in front of a good DVD… 
I'll end on a positive.
I have praised adidas before for its fantastic portrayal of women in sport in the advertisements for their women's range. I LOVE their latest one featuring celebrity trainer Michelle Bridges. The caption reads:
"Play a sport where the rewards are respect, self belief and inner strength. Play by your own rules.
Play gym. Impossible is nothing."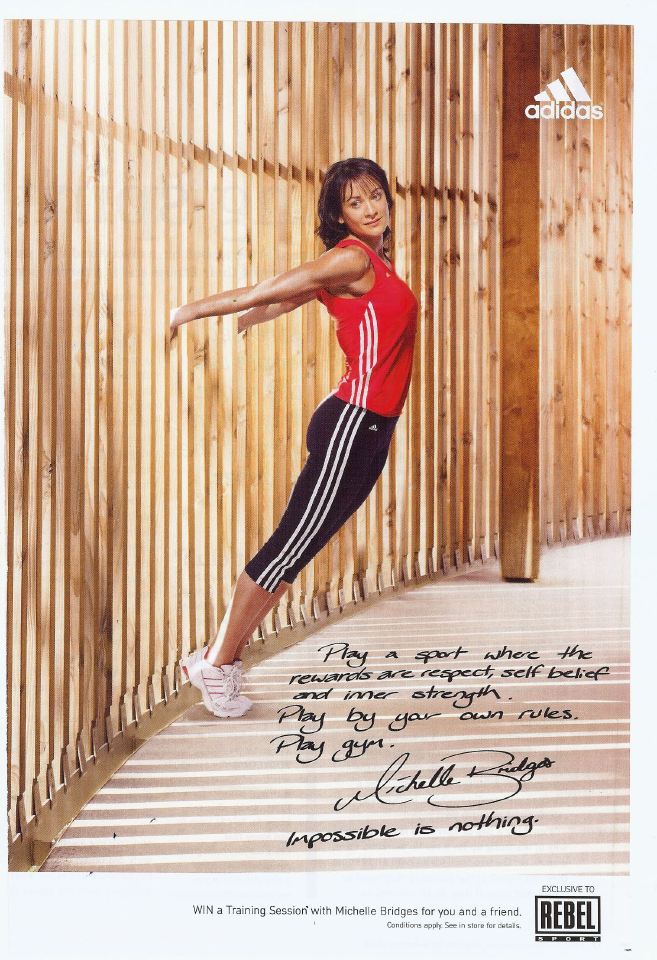 Michelle was made famous through her involvement with Tv's The Biggest Loser. I have questioned this show's emphasis on dramatic weight loss at all costs, and the promise of a new, perfect life as a direct result of the new perfect body, in a recent Opinion Piece I wrote that was published in the Herald. HOWEVER, this campaign gets it just right – the rewards for participating in sports must include self respect, self belief and inner strength. Surely the bonus is the improved fitness and toned body?
I met Michelle Bridges briefly this week and was struck by her genuine passion for what she does and her commitment to assisting her clients to feel good, not just look good. She also told me that as a young teen girl sport was her physical and emotional outlet. It kept her sane and strong. I want more of these role models for our girls! Bring it on adidas!