The last few weeks have been something of whirlwind. I have been presenting to hundreds of teen girls in Adelaide, Canberra, Sydney – and am off to Melbourne and Singapore shortly too.
And oh how wonderful it was to have this on-the-ground work externally recognised by Prevention Australia Magazine. This month I was honoured to be included in their annual "40 Most Inspiring Women Over 40" issue; listed as a "Game Changer" alongside such incredible women as Jessica Rowe, Ita Buttrose, Quentin Bryce and Penny Wong!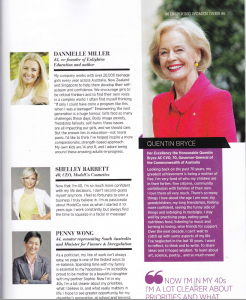 It was also wonderful to have the opportunity to return to Channel 9's "Mornings" program to discuss the ridiculous weight jibes that were directed towards fashion model Jessica Gomes:
And finally, the audio from the session I chaired at the Sydney Opera House's "All About Women" conference, "Bringing Up Daughters," was uploaded. You may access it here:
Audio – Bringing Up Daughters – Sydney Opera House, 7th April, 2003.
This conversation is really thought provoking and features insights from my panellists Nigel Marsh, Maya Newell and Barbara Toner. Unfortunately, the audio gets stuck about 25 seconds in, but if you scroll past this point you will be able to listen to the entire hour. It may be worth listening as a staff / parent body and then discussing some of the key questions I posed yourselves? Questions may include:
In her book Leaning In, Facebook COO Sheryl Sandberg cites research showing that parents treat sons and daughters differently. They talk to girl babies more than boys, and spend more time comforting and hugging girls than watching them play by themselves. Mothers also overestimate the crawling abilities of their sons and underestimate it in their daughters. And Sandberg says, 'When a girl tries to lead, she is often labelled bossy. Boys are seldom called bossy because a boy taking the role of a boss does not surprise or offend.' She argues that the fact we treat girls and boys differently from a young age is one of the reasons there are so few women in leadership positions. Do you think that parents can subconsciously restrict the opportunities of their daughters?
Does new technology mean we need to change the way we parent, or are the fundamentals still the same?

One of the big social changes of the past decade or so that worries a lot of parents is how easy it has become to access porn. Pornography was always there—but now it's everywhere, and it's increasingly hard core. University of NSW research noted that 28 percent of 9–16-year-olds had seen sexual material online, which means that by the time parents settle down to have 'the talk' with their kids about sex education, chances are their kids have already formed their own ideas about what sex is, based on a porn ideal. So how should we talk to our daughters about sex and about the big difference between porn sex and real-life sex?

Most parents are juggling an extraordinary workload these days as well as running a household. The first thing many of us do each day is grab our phone and start checking emails and texts, and it doesn't stop till we got to bed that night. A lot of us end up feeling exhausted and overwhelmed—but it's not just parents. At my company Enlighten Education we run relaxation workshops for girls because they are increasingly stressed by an overscheduled life, an online world that never turns off and the pressure they feel to achieve. How important is it for our children that we set the tone by making healthy choices and finding a work/life balance ourselves?
What is the most valuable thing that you learned from your own parents that you wish all daughters could learn?