The clip below is a really interesting opinion piece posted by The New York Times on March 10th. (Click on the image or visit: http://video.nytimes.com/video/2009/03/09/opinion/1194838469575/sex-lies-and-photoshop.html.)
This has particular relevance for us in Australia. Here, too, the camera always lies.
Does it matter? Yes. For some years now groups like ours have been advocating for more realistic and diverse portrayals of young women in the media; the current definition of beauty is so very narrow! Research from Mission Australia shows that for young Australian women in particular, concerns over body image are urgent. Through my work, I have seen firsthand that self-doubt can impact on every dimension of a young girl's life: when girls are on extreme diets (and many are), or self-medicating depression by binge drinking, or being bullied by peers because they do not fit some ideal, they cannot possibly reach their full academic or personal potential.
I work with hundreds of schools right across Australia and New Zealand, and I can tell you that there is a real need to give girls skills to deconstruct the many unhealthy media messages they are currently bombarded with. The fact that our company, Enlighten Education, is so busy (we have worked with over 25 schools this term alone) is indicative of this. Schools recognise that they are not just responsible for producing strong academic candidates – they are concerned with the whole girl. They want their students to be healthy and happy and know that they are somebodies, not just bodies.
It seems that the Federal Government is also now keen to act. Earlier this month, it commissioned a group of fashion industry leaders to address body dissatisfaction levels among Australia's youth. The group will be chaired by a former editor of Cosmopolitan magazine, Mia Freedman. Girlfriend editor Sarah Cornish, model Sarah Murdoch and a number of representatives from health, media and youth groups will also be involved.
They have been charged with developing a voluntary code of practice for portraying body image in the media. The clear labelling of digitally retouched or modified images, greater diversity of body shapes and sizes, and mandatory model age limits are among the issues under consideration by the group.
This move is a welcome one – and has come not before time. I just hope the working party developing these standards don't use this opportunity merely as a PR exercise. We need real action, not just a talkfest. We also need consistency: magazines cannot say on the one hand "We care about teen girl self-esteem" while on the other they allow advertisements that sexualise and objectify young women. After all, Girlfriend magazine gave free Playboy T-shirts away to readers not that long ago!
While the talk continues, we will keep working.
And we will keep listening to our client schools who are getting more and more inventive in how they follow up on our work. Teachers from St Mary's Star of the Sea College, Wollongong, will build on it in their pastoral care program throughout the year. The girls did a reflective task recently in which they set their personal goals for the year ahead and celebrated by writing them on butterflies they decorated – and sent to me 🙂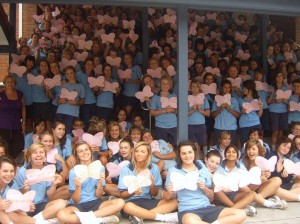 Girls at Rangi Ruru in New Zealand created their own Hall of Fame and Wall of Shame. (See my previous blog post to get this started at your school.) Guidance Counsellor Jane Dickie sent me some wonderful feedback:
We also had cakes in the shape of butterflies to remind us to celebrate the beauty within us all. Throughout the year we will continue to carry on the themes discussed during the Enlighten programme. Not only has this been helpful for Year 10 as a whole, it has also given us ideas for working with girls higher up in the school. The saying "No girl gets left behind" has been something we have discussed with Years 11 to 13. We have also highlighted to the girls as a whole the influence of the media, and being vigilant about the pressure and ideas they are trying to sell. You are a consumer and therefore have power by not buying magazines, etc., that portray women in a negative light.
Love to hear what is happening at your school to provide girls with an alternative to the more negative messages they are surrounded with.
PS If you are establishing your own Hall of Fame / Wall of Shame, here are some new entrants:
Shame on Smiggle. They have just released a voodoo-doll-inspired pencil case, complete with a spot to insert a photo of the person you hate and pins to stick in this effigy! Julie Gale from Kids Free 2B Kids was quick to point out why this is grossly irresponsible: Kids Free 2B Kids protests against voodoo pencil case.
Shame, too, on Sydney radio station Triple M. They are running a new competition entitled Make Me a Porn Star: "Send us a photo of your best 'porn star' look, and you could win $5000 to pimp yourself up! We'll also send you and a friend to Perth for Porn Week where you will get exclusive behind the scenes VIP access and star as an extra in an Adult Film!" Is a role in a porn film something we should be competing for on mainstream radio?