This week I took my 7 year old son Kye with me to the local supermarkets. Whilst I was selecting a Birthday card for a friend he proceeded to pick up a magazine displayed at his eye level and asked me "What is Kyle's wife doing with her friend?"
Ralph magazine's August cover features "Kyle Sandiland's Babe!" Tamara posed seductively all over her best friend Reigan: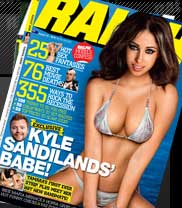 Close up of cover image:
Thankfully my boy didn't get the opportunity to read the accompanying interview:
How did you two hook up?

Tamara: I was in America pursuing music stuff and Reigan was on Australian Idol. Kyle kept sending me DVDs of her and saying, "This girl's really hot. You two would be great together." Then, when I came back, Reigan came to Sydney to meet me. This was three years ago.

Reigan: I was staying at a backpacker's and Tamara calls me up and says, "Come and stay at our house." I've been living there ever since – and she's had me drunk ever since.

What's been your wildest night out?

Tamara: I'll reveal one detail from my hen's night – I pretty much got home naked. I have to admit, I have a lesbian tendency. Women are beautiful, so instead of getting male strippers, I got a female dildo show.

Got any party tricks?

Tamara: Get everybody naked. Reigan and I are like little nymphs. We like everyone to do things they wouldn't usually do.

Reigan: But it's not just like, "Hey, get naked!" It's compliment after compliment until they get naked. I'm famous for my all-girl parties in Perth.

How does Kyle reckon of the shoot now that it's finished?

Tamara: He loves it. When he first heard about it, he was like, "Why wouldn't I want everyone to see how hot you are?"
Do we really need our children to see images like this when we are out buying the groceries?
Do we really need this man back on our airwaves? 
Thankfully this week I also received the very timely email below from the passionate Catherine Manning – don't you just love a committed grass-roots campaign?
It must be pointed out that Catherine is actually directing her campaign against magazines that make even the example above seem tame. In her own words: "….as I stood waiting for an order with my four year old son, I noticed at children's eye level just beside the ice-cream freezer directly in front of us, two magazines with almost naked, unnaturally busty, spread legged, pubeless women, faces with parted glossy lips wantingly staring out, as they pulled down their knickers. With headlines such as 'Fit to F*#K', World's Oldest P*rn Star', 'Keep on F*#king', 'P*rn star goes down on chopper pilot's chopper', etc., there wasn't much left to the imagination…"
I would encourage all my readers to explore Catherine's site and offer support. And to perhaps think about whether we should be also more vigillent about the displaying of even the more mainstream men's magazines too.  
Dear fellow Children's Rights advocate,
As a result of my own personal experience with my local general store, from which I have been banned for raising concerns about pornographic magazines being placed at children's eye level, I am about to launch a petition to the Standing Committee of Attorney's General (SCAG) Censorship Ministers to have pornographic publications removed from children's access and view in milkbars, service stations, etc.
Having received great community support after several articles and letters to the editor were published in my local newspapers, I have just launched http://sayno4kids.com. This site will house the petition, giving the public easy access to add their voice to the call for change to the current display laws surrounding pornographic publications. Of course, depending on the success of this one, sayno4kids.com could house other petitions relating to children's rights/sexualisation of children.
Since my story aired on the ABC774 Jon Faine Morning Program, Julie Gale of Kids Free 2B Kids and I have met on several occasions and have now formed an 'alliance' to promote and distribute this petition.
On a personal note, I am a mother of four children (ages 4, 5,7 and 10). I worked in the television news industry for 10 years (B.C.!), and more recently have been involved in community and environmental advocacy. I am passionate about this issue, and truly believe that the most effective way to create change is through 'grass roots' movement.
In a letter in response to my complaint, the Director of the Classification Board Donald McDonald, assured me that '…the Board takes its responsibilities seriously and reflects current community standards in its decision making'. This leads me to conclude that the Board are in fact out of touch with the community, as I am yet to meet one person who doesn't agree that exposing children to pornography is inappropriate and harmful.
Given your area of expertise, I am appealing to you to support this petition, and ask that I may be able to include your name/organisation in a list of ' endorsements ' on our website. If you would like to provide a statement or comment, that would be welcome too.  
Kind regards,
Catherine Manning
Say No 4 Kids
www.sayno4kids.com
e. info@sayno4kids.com