Enlighten's Catherine Manning, one of our Melbourne workshop presenters, was in the toy aisles at K-mart last week with her two daughters and two nieces, ranging in age from 8-12. In the girls toy section, Catherine was appalled to see a whole row of "My Cleaning Set." Inside the glossy pink packaging was a mop and bucket, broom and—hold on, don't get too excited—even a dustpan and some cleaning spray!
Holy Peanut Butter Cups, Batgal! Can you think of a more boring toy? Catherine says—and really, I have to agree—that the girl pictured on the box "looks to me like a little girl destined for a life of misery."
Just as Catherine was contemplating buying one so she could discuss it with teen girls in her Enlighten workshops, something awesome happened that has got all of us here at Enlighten smiling: Catherine noticed that her daughters and nieces were standing further down the aisle, holding toy irons, with indignant looks on their faces.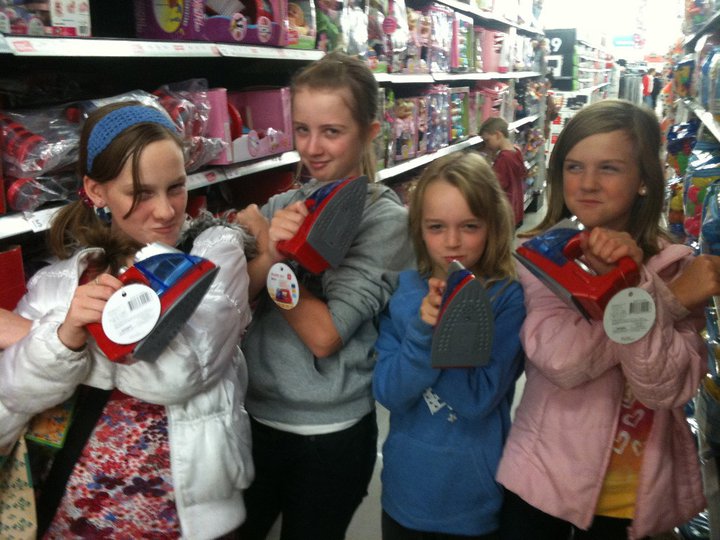 The girls were incensed by the stereotyping they found in the boys and girls toy aisles, so she encouraged them to each write a letter to K-Mart. Here is a sampling from their passionate and articulate letters:
When you look in the girls aisle it's all just pink, princess stuff, and boring cooking and scrubbing products, but the boys get fun building stuff, and puzzles and cars.  I still don't know why marbles, puzzles and mighty beans are in the boys aisles.

The girls toys make little girls think they are the maids and they're in prison and they serve the boys their food, massage their smelly feet and look after them and serve them breakfast, lunch and dinner!

. . .

You might think that black, blue and all dark colours are for boys but to me they are girls colours too.  Just like pink and yellow and red aren't just girls colours . . .  There are just things in this world called 'colours' and they don't belong to anybody and they are all different just like no person or people are the same, they're all different! —Lucinda, 9
It isn't fair that boys get all the fun, and we get all the house jobs.  When I think about being an adult, I definitely would like to think that my future partner would think that they're NOT just jobs for girls! I would love to see some girls toys that lets girls be creative and constructive.  This could be like building something like a dolls house, or a billy cart, or just other fun stuff.

It is unfair how girls have, like, toys that they're 'meant' to play with as though it's wrong to play with the boys stuff. —Eden, 11
The dolls are always dripping with makeup.  It makes me feel like I'm supposed to look like them, and it makes me feel a bit sick.

I think that girls are being taught that they should 'prepare' for when they are older, because ladies do cooking and cleaning for their families while the men go outside and actually do FUN stuff!  I think the boys are laughing at us because they think that's how it's gonna be too!

Lego is soooo fun!  I love building random, weird stuff! Me and my younger brother recently built this MASSIVE skyscraper thing!  If there are any toys that are girls or  women, they have hardly any clothes on.  My brothers dressed up as fairy princesses last week—have you stopped to think that they sometimes like to play 'girl' stuff too!

Why do you even need to have a 'boys' and 'girls' aisle?  Why don't you mix them up so we all get to look at different toys and decide ourselves what we should play with?  — Mietta, 12
I think it's very interesting that all the girls feel that girls and boys should be allowed to choose what they want to play with, not have it foisted upon them because of their gender. Indeed, the problem isn't inherently that there's anything wrong with playing with a mop or an iron, but that thanks to marketing, packaging and the way the store displays its merchandise, kids and adults alike get the message that girls should clean and boys should build stuff. Look closely in the background of that picture of the Amazons brandishing those plastic irons and you'll see that Catherine's son Jem in fact looks pretty interested in something in the "girls" aisle.
Catherine notes, "Maybe if there was more equality in the toy shop, there would be more equality in the workplace." In 2011, women still earn only 84% of what their male counterparts do and make up only 20% of company board positions. Justine, on Enlighten's Facebook page, makes a similar point:
I have known kids to enjoy playing with these toys but only because at a certain age they like to imitate adults . . . it wouldn't have killed them to put a boy on the packaging as well, but the reality is probably that it is mum kids see doing the housework most often = THAT'S the problem!
Girls show us time and again that they are perfectly capable of using their brains to decide what is fair and what isn't. And there are plenty of feminists around today who survived playing with Barbies and toys such as the astonishing "Perfect Wedding" that Irin Carmon writes about at Jezebel. But still, I think that our toy aisles aren't merely reflecting our unequal gender reality, they are actively helping to create and reinforce it. If you were in any doubt about the messages marketers are sending boys and girls about who they're meant to be, take a look at these "word clouds" that The Achilles Effect did, based on an analysis of the words used in toy advertising aimed at boys or girls. Sadly, I don't think I even need to caption them for you to work out which is the boys' and which the girls':
Toy companies and stores would be smart to take notice of girls such as Lucinda, Eden, and Mietta, though—because we've all had enough of gender stereotyping. With that in mind, I have a fun activity challenge for you this school holidays: encourage your daughter to design a toy that will accurately prepare girls for life as a successful woman! I would love to post the results here on the blog. She can make a drawing and scan it, or even build a model then take a photograph of it. Then email me the scan or the photo, and I'll publish it here! My email address is: danni@enlighteneducation.com. Entries close 20th May. The most creative entries we receive will win copies of our inspiring Enlighten posters so do make sure you also forward your contact details.