I love the simple yet powerful messages being passed on via Operation Beautiful — "The mission of Operation Beautiful is to post anonymous notes in public places for other women to find. The point is that WE ARE ALL BEAUTIFUL. You are enough . . . just the way you are!"
A young woman I admire, Noelle, was kind enough to share with me her recent adventures posting notes all around the streets of Sydney and in the change rooms at dress shops. Not only did Noelle thoroughly enjoy spreading the love, she was touched by the positive responses she witnessed in women when they saw her anonymous notes. You may wish to read her blog account of this experience: http://diet-coke-missy.blogspot.com/2010/01/operation-beautiful.html.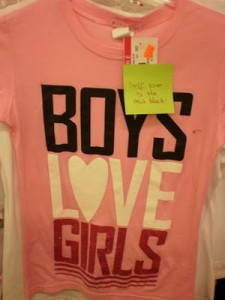 Implementing this project at your school or workplace would be a wonderful way to start the year! Think affirming notes left in the toilets, on lockers, hidden in library books . . .
Our girls are currently bombarded with messages that tell them they are not enough. Let's create more opportunities to be voices of difference.