Last week Enlighten Education presenter Nikki Davis shared stories from her time as a young model dealing with the body-image pressures of the fashion world. This week, to help inform the many girls who want to be models, and their families, Nikki gives us an insider's look at the positives, the negatives and some of the practicalities of life as a model.
Girls who love clothes and makeup will enjoy many aspects of modelling, such as wearing new fashions before their friends do, having expert makeup artists working on them using top-of-the-range products, getting invited to launch parties, and receiving free products and goodie bags. When girls think about the positives of being a model they immediately think of these perks, plus all the attention. But there are also long-term and substantial benefits a girl can get from modelling if she handles it well.
Modelling is a chance to meet and learn from a wide range of different people. I have worked with artists in their own right such as fashion designers Alannah Hill and Akira Isagowa, choreographers Jason Coleman (from "So You Think You Can Dance") and John "Cha Cha" O'Connell (who worked on "Moulin Rouge"), and many brilliantly talented photographers and hair and makeup artists. Some of these contacts have led me toward other opportunities such as acting, writing for dance publications and mentoring young performers. Modelling also brings some girls the opportunity to travel overseas, and that can be great learning experience.
A model has to develop good interpersonal skills. She needs to be able to walk into a room full of strangers, put her card or portfolio down, confidently say "Hi" and present herself. A lot of clients only want to work with girls who are nice, bubbly and easy to be with on a long shoot. My agent says to me: "Sometimes, Nikki, I think you get booked because they know they can stand to spend 12 hours with you!"
Being a model has helped me gain confidence and become the presenter I am today with
Enlighten
— and I am more passionate about this job than anything else I have ever done before. Modelling has been part of my journey, for it has taught me exceptional presentation skills. I might go to a casting for something like a yogurt commercial and not have any actual props to hold. They just turn the camera on, and I've got to pretend to get out of my car, open the boot, get the dog out, walk the dog, then eat a pretend yogurt. And I'm just making an absolute fool of myself! Then I walk out and think, "Okay, if I can do that, then I can stand up in front of 90 girls at an Enlighten workshop and put myself out there!"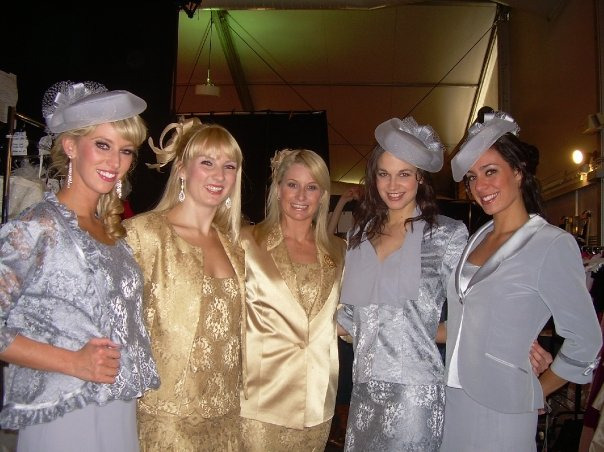 Modelling can also be an inroad to related careers such as acting, television presenting, or working as an agent, booker, makeup artist or photographer. The key is for a model to always be planning for the future, even at the height of her career. The fashion industry is obsessed with youth, so models as they head towards 30 start to get panicky if they haven't trained for any other role and perhaps left school at 15 or 16. As a girl, my primary focus was always to finish school and go to university.  
A lot has been said about the photoshopping trend in magazines and advertising. I once got a total shock when I saw a magazine picture and didn't even recognise myself. When Sarah Murdoch appeared on the cover of Women's Weekly free of airbrushing, she said, "I think when I'm retouched in photographs it's worse, because when people see me in real life they go, 'Oh God! Isn't she old!'" But the fact is: once a model is past a certain age, clients don't bother to hire and then retouch her unless she has a big name. Indeed, only the big names such as Sarah Murdoch ever have much chance of getting the high-paying, glamorous jobs. 
For the vast majority, modelling won't pay the rent on its own. The hard reality in Australia is that only the top 5% of models are doing the amazing jobs — the fashion magazine editorials, the sides of buses, Australian Fashion Week. The rest are doing the type of jobs that I have mostly done — the mall and department store catwalk shows, catalogues, That's Life magazine. The pay for those jobs is not all that high, and there is rarely enough work available for girls to model full-time. All the more reason why they need to acquire additional skills.
The financial pressure is heightened by the fact that as a model you are expected to be ready for castings on short notice, and that means spending big dollars (and hours) on being manicured, pedicured, fake tanned, fashionably dressed, and having good hair and teeth — all the time. 
Another thing girls should be aware of is that modelling can change the way people see you. Others sometimes make an immediate assumption that I'm not particularly bright, and that is incredibly frustrating. Guys might assume that all models are party girls and I must be out all night at bars. Women automatically think that life must be easy for me and I have never worried about my body or appearance (if only!). Or they transport me right back to the schoolyard by picking my flaws — "I can't believe she models with a bum that size" and so on. When you're on a catwalk or in a magazine, you are putting yourself out there to be judged, and that judgment won't always be favourable.
Similarly, models need to get used to being rejected at castings. There will be times when you are not what the client needs — maybe they needed a petite blonde and you're a tall brunette — and models need to learn not to take it personally.
Ironically, all these negatives I've raised do have the potential to be positive, if they help a girl develop resilience. If she can learn to deal with the inevitable self-esteem jolts of modelling, she can draw on that inner strength for the rest of her life, in any situation.
The key to becoming resilient rather than being crushed is to do what we talk about with girls through Enlighten: remember the real reasons why you're special. Perhaps you fit into society's idea of what is good-looking, and you can model, make some money and have some experiences — that's fine. But remember why your friends like to spend time with you. Stay focused on all the other achievements and activities you've got going on in your life.
They are words for us all to live by.
I know that it can be a real source of anxiety for parents when their daughter announces that she wants to try to break into modelling, so next week Dannielle Miller will conclude this three-part series of blog posts by looking at ethics in the industry, hypersexual images of girls in advertising and how to talk with your daughter about her desire to model. 
Nikki Davis, BA (Communications), is an Enlighten Education presenter based in Sydney. She has worked as a model, dancer, dance teacher, scriptwriter, magazine editor, and video and special events producer. Training to be a volunteer telephone counsellor with Lifeline gave Nikki the opportunity to explore her interest in counselling and psychotherapy, which she continues to study. She has a special interest in social issues related to girls and women. (Nikki also just happens to have been one of my favourite and most talented students when I was a high school English teacher. I adored her so much, I just had to keep her! — Danni)