This week's post, revealing the truth behind the hysteria about all the time girls spend on Facebook and texting, is by our talented program manager for Enlighten Education in New Zealand, Rachel Hansen. Rachel is an experienced health and wellbeing educator who has a first-class honours degree in Psychology and a Masters degree in Criminology from Cambridge University (UK). Her research has focused on youth development, youth offending and women's health.
Every so often new research is published on just how much time teens are spending online and engaged in social media. Eye-catching headlines
are designed to shock: "Teenage 'hypertexters' more likely to have sex, drink, use drugs", "Psychologist Warns of Facebook Dangers", "Facebook warning after Aust teen lured to death".
Generation Y has never known life without internet, and at times the way their world functions seems completely foreign to many parents. I always get a chuckle from teen girls' reactions when I explain to them how my friends and I managed to navigate girl-world without the assistance of mobile phones or Facebook. To them, social media is so essential to the way they connect with their friends that it is hard for them to imagine a world without it. The effect all this connectivity is having on our children is certainly a hot topic among parents that I speak to.
All this has got me thinking – just how different are the social habits of today's teens to those a generation ago?
As a teenager, I spent many hours camped on our family landline. I would farewell my friends at school, and then as soon as I got home I would be on the phone. I have a note in my 1992 diary exclaiming: "Broke my phone record!!! 6 hours non-stop!!! One phonecall!!!" (My mind boggles. Did we have toilet breaks? Refreshment pauses?)
And when we weren't talking on the phone, we were writing to one another. Pages and pages and pages. My friends and I would wave goodbye as we headed off to our respective classes or homes, and these waves would always be accompanied with "write me a letter!" When we saw each other again, we would exchange letters and keep them to read when we next had to endure separation for more than 10 minutes. Due to my hoarding tendencies, I have kept every one of these letters. And let me clarify that these are not notes – some stretch to 20 pages long!
My point is this: as a teenager I spent in excess of 20 hours a week engaging in non-face-to-face social contact – that is, telephone calls and letters. I think that this behaviour at times probably exasperated my parents, but it did not have them fearing for my future socialisation.
Today's teenagers send messages and status updates constantly, just as I spent endless hours talking on the landline and hand-writing letters. The medium is different but the drive is the same: the desire to connect with others, explore friendships, delve deeper into one's emotions, and understand and develop relationships. This desire has always driven teen girls' behaviour. I suggest that when it comes to core needs and values, girls today are not that different at all to us as teens. It is just that the modes girls use to express themselves have changed.
A common theme of the concerns about social media is that it prevents girls from developing real friendships. In presenting Enlighten workshops to teen girls all around New Zealand, I see no evidence of this. I see girls hugging, talking and sharing their lives with one another. They write about how important their best friends are in their lives. Recent research by Girl Scouts USA indicates that:
despite popular perception, social networks are not necessarily a 'girl's best friend' . . . The vast majority of girls prefer face-to-face communication. Ninety-two percent would give up all of their social networking friends if it meant keeping their best friend.
The study also showed that 52% of girls have used a social networking site to become involved in a cause that they care about, and more than half agree that social networking online helps them feel closer to their friends.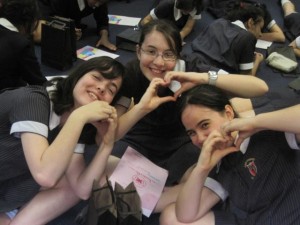 I acknowledge that there are valid concerns about cyber-bullying, children viewing inappropriate material and the effects on a teen's sense of self-worth of maintaining an online profile. Along with the many milestones your child encounters on the way to adulthood, the "safe social media talk" must happen. The sooner kids learn the basics of social media and staying safe online, the better: Superclubs Plus is a safe, regulated social media site for 6–12-year-olds. In many schools in New Zealand and Australia, this is sponsored so is free to use.
Before we rush to condemn social media, it's important to consider the many benefits of all this connectivity and how it can be a positive in our teens' lives if used appropriately. In a previous post, Dannielle Miller has discussed the many benefits of girls being cyber-savvy:
Technology has the capacity to allow for connecting, creating, informing and educating. Let's not allow fear to drive us to further isolate and limit our girls. Rather, let's inspire girls to get savvy and to use ICT as a tool to meet their own needs.
One of the big concerns parents have regarding social media is privacy. However, ironically Generation Y is far more conscious of privacy online than their parents. According to Education IT consultant Robyn Treyvaud:
The Gen Ys who have been hanging out on Facebook for a while understand the implications of the privacy changes Facebook have implemented four or five times since December. I give them a lot of credit and we've got a lot to learn from them. We do fall into the trap of thinking we know better than them.
Furthermore, research by Mary Madden of the US-based Pew Internet Project this year found that
contrary to the popular perception that younger users embrace a laissez-faire attitude about their online reputations, young adults are often more vigilant than older adults when it comes to managing their online identities" . . . Young people were very aware of their online reputation – customising privacy settings and limiting the information about them that appears online.
I think it is too easy for parents to dismiss social media and demonise it. Parents who ban their teenagers from social networks or widely condemn their use are doing their children a disservice. As one writer put it: "Is Facebook really worse for teenagers' brains than the mindless reruns of Gilligan's Island and The Brady Bunch that their parents consumed growing up?"
I use Facebook regularly for connecting with friends, meeting like-minded people and keeping up-to-date on the latest research and news in my fields of interest. I live in (relatively) small-town New Zealand and I have many wonderful friends in my town. But Facebook allows me the luxury of connecting with a wide range of people who share my passions. I would feel professionally isolated without social media. Similarly I have heard numerous stories from quirky teens who just don't have a social group they fit in with in their small town. The beauty of the internet is that regardless of how quirky your interests are, it's guaranteed that somewhere there is someone else sharing your interests. For some teens, finding an online community of like-minded people can literally be a lifesaver.
Social networking icons by: ZyMOS [Public domain], via Wikimedia Commons