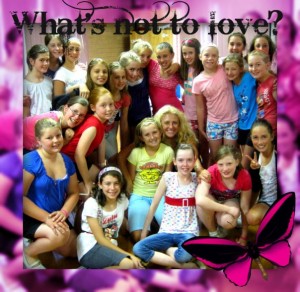 I love my job and the girls that I work with. I feel blessed to be able to do something I am so passionate about.
So I can't tell you how happy it makes me that 2009 became a bit of a turning point, the year when the mainstream media – despite all its raunch culture and limiting messages for girls – began to pick up some of the messages I've been shouting out for years. Earlier in the year The Australian newspaper named me Australia's Number 1 Emerging Leader in Learning; and my book The Butterfly Effect, encouraging parents to combat the pressures teen girls face by forging loving, open relationships with them, was widely reviewed.
Now the(sydney)magazine – the Sydney Morning Herald's monthly glossy – has included me in its annual issue on Sydney's 100 most influential people. I am so honoured to receive the recognition – but more than that, I am happy that the crises our girls are facing are finally getting a little airtime.
Thank you to the wonderful women in the Enlighten team and to all the schools we worked with this year and the fabulous girls we had the good fortune to meet. In 2009 we worked with well over 100 schools right across Australia and New Zealand!  (The journo at the(sydney)magazine wrote that it was 15 schools. I don't know where he got that from, but I am proud to report that my colleagues and I have been a lot busier than that! But in the spirit of the festive season, I say: "To err is human, to forgive, divine"!)
I am already excited about what 2010 will bring – the inspiring girls, dedicated teachers and innovative schools we will work with. There is a lot of creative energy going into girls' education right now. Here's just a small taste of what I'm looking forward to in the first half of 2010 that you might like to pencil in to your diaries, too.
CONFERENCES AND PUBLIC TALKS
16 March – "Wake Up Sleeping Beauty" – I will be giving one of my parent information seminars at Castle Hill Library, in Sydney. These are great for any parent who wants to help their teenage daughter navigate the flood of messages from the media, advertisers, marketers and peer pressure. Tickets will go on sale early in the New Year.
19 March – "Growing up fast and furious: Reviewing the impacts of violent and sexualised media on children" – I am keen to attend Young Media Australia's conference, at the NSW Teachers Federation Conference Centre in Sydney, at which a range of key international experts on children and the media will review the latest research.
28–30 May 2010 –  "Skating on the Glass Ceiling" – I am excited that Enlighten Education is sponsoring the Alliance of Girls' Schools Australasia's conference at Ascham School, in Sydney. There is a stellar list of keynote speakers, including Germaine Greer, Dale Spender and Cheryl Kernot. Come check out the Enlighten stand; we'd love to meet you!
16–18 June 2010 –  "Insights: A Fresh Look at Girls' Education" – I am thrilled to be one of the keynote speakers on Risk Behaviour in Young Women at this national conference at the Grand Hyatt, Melbourne, which covers topics as broad (and vitally important) as technology; leadership, power and politics; relationships and work; and global and ethical responsibility. And I will be running a special session with teenage girls – my true passion! I'm also looking forward to hearing other keynote speakers such as Elizabeth Broderick, Kaz Cooke, Maggie Hamilton and Melinda Tankard Reist.
ENLIGHTEN EDUCATION'S WORK IN SCHOOLS
Enlighten Education is excited to have been invited into some new schools in 2010. Here are some highlights for the first term alone:
We are proud to be part of the Orientation Program for new Year 7 students at Roseville College, Kambala, Brigidine College and Pymble Ladies College, in Sydney, and Canberra Girls Grammar.
In Christchurch, New Zealand, I will be working with more than 400 girls and their parents at St Margaret's College and at Rangi Ruru.
For the Wilderness School in Adelaide, Enlighten will be working closely with all girls in years 7, 8, 9 and 10, and the parent community, as part of their Raising Amazing Girls initiative.
At Santa Sabina College, in Sydney, will be extending our work with girls in years 8, 9, 10 and 11 by including their parents.
And we are thrilled to be continuing to work with long-term clients St Brigid's Lesmurdie in Perth, St Vianney's Primary School and Domremy College, in Sydney, and Firbank Grammar, in Victoria, along with many other schools we have come to know and love right across Australia. Here's to a wonderful and enriching 2010 for all our girls, their parents and their dedicated teachers!