The letter below was forwarded to me by Julie Gale, founder of Kids Free 2B Kids and a very passionate, active defender of childhood.  I was so impressed I asked her permission to share it with you. Keep in mind, Girlfriend is a magazine thats core readership is girls aged between 13 and 14 years.   
To: The Editor of Girlfriend Magazine
21/2/08
Hello Sarah,
I am the Director of an organisation called Kids Free 2B Kids which is concerned about the sexualisation of kids, via the media, advertising, marketing and fashion industries. http://www.kf2bk.com. One of our concerns is the images children are exposed to, and the influence of corporations and the media, in shaping the way children think about themselves and others as they are developing. Girlfriend magazine is to be commended for its 'Self-Respect Campaign' and others, such as the recently introduced 'I delete bullies' campaign. There are, however, a number of conflicts with the Girlfriend Self-Respect campaign, which Kf2Bk would like to comment on. The Wallpaper & text messaging advertisements for mobile phones, which feature in Girlfriend magazine, appear to be in complete contradiction to the Self-Respect campaign, and the staff pledge to the readers.
These advertisements perpetuate the idea that young girls need to be 'hot' 'sexy' and 'sexually available' to be cool and popular. It is extraordinary that the appropriateness of these advertisements, for a girl's magazine, has not been considered. Examples include:
Girlfriend recently advertised a T-shirt with the slogan "MAKE ME HOT MR SEX POT." Another article featured the words: "Be the girl boys adore, with make-up for your boudoir".
Last year, on behalf of Kids Free 2B Kids, I rang the Girlfriend publisher to formally complain about the Playboy free giveaway T-Shirt .
The Playboy text includes: "Playboy is a collection of clothing and swimwear for the trend savvy fashionable girl. Cute and innocent, cool and tough, all at the same time. Playboy is one brand you should include in your wardrobe". Playboy is a leading brand of the pornography industry, and has more recently been insidiously creeping into mainstream. Kids Free 2B Kids believes that young girls should never be encouraged to support the pornography industry. Girlfriend recently had an article titled the 'LAD MAG LOWDOWN – Welcome to a world where fast cars, sports and bikini babes rule!' This article featured the soft porn magazines FHM and ZOO.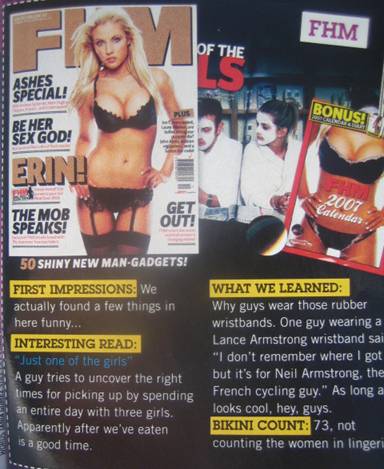 The sexualised images of women adorning the covers of soft porn magazines helps to cement the current notion that women (and young girls) need to flaunt themselves and be sexy, to be acceptable to males – and to be empowered as females. Girlfriend informs the reader that this is 'what makes them (guys) tick'… and 'that a pole dancing pole is, like, a really good present to give a girl. In fact, it's "The #1 item on every girl's wish list. She gets fit…you get to watch. Dream on! We're not all Carmen Electra, boys."
Even the premise of a joke (in terms of quoting from the men's magazines) in this situation fails to consider the impacts and harm to girls regarding early sexualisation. The Girlfriend Self-Respect Campaign pledges the following:
"To show you we're serious about self-respect, and committed to helping you get it, the Staff will –
Help you make smart, informed choices about your mental and physical health…
Encourage you to lead a healthy, balanced lifestyle…
Help you feel good about your changing bodies…
Make you media-aware by dishing on the devices we use to make the mag so glossy and perfect looking…"
If perfection is indeed boring, then Kf2bK wonders why Girlfriend magazine continues to print perfectly photoshopped images of models, celebrities…and staff. Girlfriend staff pledge to: "remind you with our reality checks, that we've used Photoshop to retouch pictures of models and celebs (um, and us)."
Girls do not reportedly feel any better about themselves, nor more confident, if they are merely told that an image has been photoshopped. The recent Media Code of Conduct Working Group on Body Image report states: "Anecdotal evidence shows that the majority of stakeholders, or parties identified by them, do not feel socially responsible for the negative impact body images are having upon young people." Kids free 2B kids is concerned that young girls magazines are not regulated. Self regulation in the industry does not appear to be positively contributing to the health and well being of our youth.
Current research shows that our young people are experiencing increased body image problems, eating disorders, depression, anxiety, self harm, sexually transmitted infections, and are becoming sexually active at younger ages.* .
*The Australia Institutes – Corporate Paedophilia. 2006
The Australia Institutes – Letting Children Be Children. 2006
The American Psychological Association's task-force on the sexualisation of young girls. 2007
The Australian Psychological Society's guidelines for parents on the sexualisation of children.2007
ACMA enquiry into the sexualisation of children. Current.
This page in Girlfriend, which features chupa chup lollipops and Minnie Mouse, seems in direct contrast with the previous images.
Over the past year, child development experts have been speaking out publicly about the problems and impacts of the early sexualistion of children. Inappropriate action by industry and the corporate world contributes to these issues, and helps to maintain the status quo. We would appreciate your feedback
Regards,Julie Gale
0412 922 253
julie@kf2bk.com
http://www.kf2bk.com/
As of the 1st March, Julie is yet to receive a reply. I shall post Girlfriend's reply if one is sent. 
I would love to see your thoughts here. Agree or disagree – doesn't matter as long as we are talking and exploring the boundaries we wish to set. Conversations will enrich all our understandings; silence and apathy are the only real dangers. My thoughts – shame Girlfriend, Dolly and all the magazines that confuse our girls with their mixed messages, and their inappropriate soft porn product push. 
An older article published in the Age, "What is your daughter reading?" remains one of my favourites on this theme. Writer Christopher Bantick shares the outrage:
"The problem with teenage girl magazines is that they give highly suspect information, they create misconceptions about sexuality, they reinforce stereotypes about male and female behaviour and they show craven irresponsibility in their disregard for the emotional maturity of their readers. Do you know what your daughters are reading?"
Thank goodness for women like Julie who are out there trying to make a difference. I have met a number of amazing, passionate women working to improve outcomes for women and girls in the last few years and am always humbled by their energy and fire. Warriors all.