The following post was originally published by RendezView 15/10/15.
Like most Australians, every time I hear news reports about yet another woman who has died at the hands of her partner, I feel horrified.
And as at least one woman gets killed as a result of domestic violence every week, I find myself feeling horrified often.
But how does one move from anguish into something more constructive that might form part of the solution?
As an educator and author I've dedicated my career to date to working with young women; empowering them to know their worth, encouraging them to deconstruct limiting gender stereotypes and teaching them how to develop and maintain respectful relationships.
But putting an end to violence against women and children cannot just be the work of women; we desperately need the passion, creativity and hard work of good men too.
So when I joined a committed group of people in my local community working to establish a new domestic violence shelter in the Sydney suburb of Castle Hill, called The Sanctuary, I wanted to initiate a partnership with the largest boys' school in the area, Oakhill College.
It is these lads who can help us ensure that one day, our refuge may no longer be needed. Because while shelters are focused on creating crisis accommodation for women and children, they are also focused on early intervention and prevention work.
This is why all 220 of the Year 10 boys who will be adopting The Sanctuary as their own were briefed about why a refuge is needed in their local area, and about what they as young men can do to help curb violence.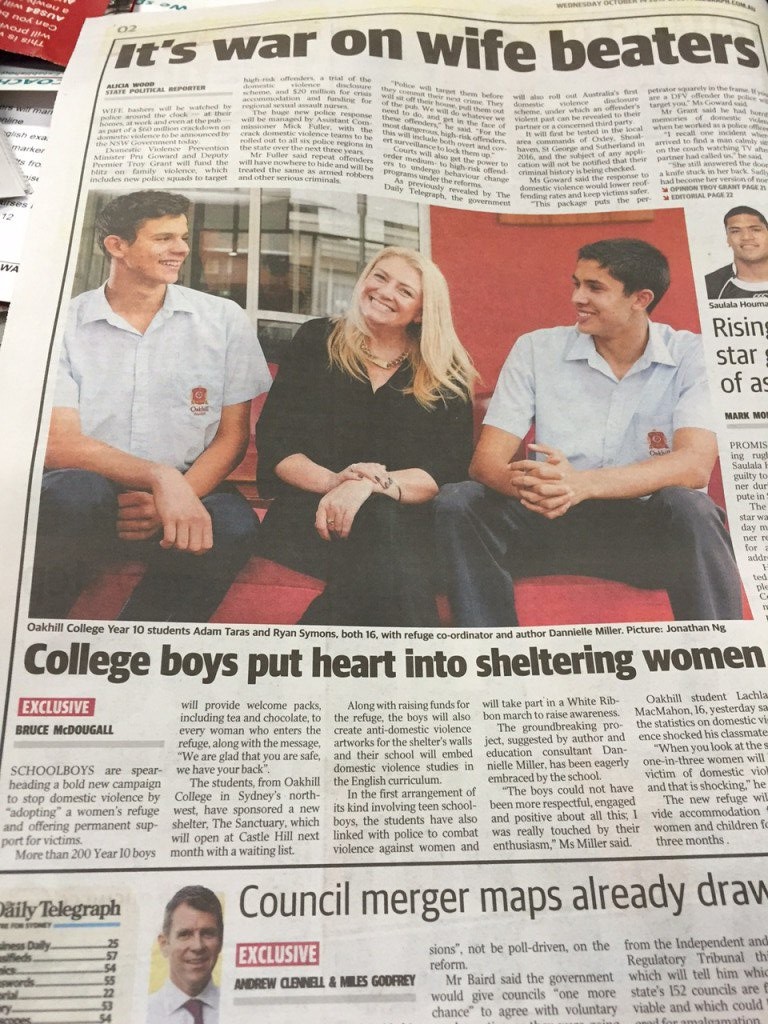 They then did further research — including looking at the underlying issues that drive domestic violence such as gender inequality and sexism — and started creating their own anti-DV posters they will carry when they join in our local White Ribbon march in November.
The boys will also now begin making up Welcome Packs (toiletries, chocolates, etc) that can be given to women and children as they arrive at the shelter. The attached gift card will simply read, "We care about you and we are glad you are safe. This gift is for you to show you that you're valued." This small act of kindness has the potential to have a huge impact for both the giver and the receiver.
Their English teachers have also now begun brainstorming ideas for how they can embed this work across their curriculum. The staff love the social justice focus and also the opportunity this creates for the application of learning in the real world.
And like with all projects that young people feel a sense of ownership over, it will evolve in ways none of us can even anticipate at this early stage. From the simple (the lad who approached me to say, "Danni, this really means a lot to me and if you want I'll get some friends and go door knocking to get you more money") to the more innovative (there's talk of producing and performing plays, and of making film projects).
Why has the initial response from these boys been so positive?
The boys have been encouraged to realise they can be part of the solution.
When I first met these boys, I looked straight into their eyes and told them I knew they were gorgeous young men who felt just as distressed as I did by knowing not all women and children are safe in their own homes. And I told them I knew they would welcome the opportunity to learn and be voices of difference.
So often too we forget that in homes where there are violent men, there are young boys who are not violent. Rather, there are boys who feel scared. Boys who feel angry. Boys who feel powerless.
Boys who want to make things OK.
And while I am incredibly grateful for the enormous contributions of the women who work tirelessly in this field, in my community I have been inspired to see there are plenty of men who want to step up and make things OK as well.
There are fellow Sanctuary Board members, like Hills Local Area Commander Rob Critchlow, who helped get the ball rolling here by seeking out a location to establish a safe shelter and managing security concerns. And the Centre Manager for Castle Towers, Martin Ollis, who convinced his QIC Board to donate a fully refurbished property to The Sanctuary rent-free. There's the Assistant Principal at Oakhill, Bob Munday, who jumped at the opportunity for his boys to be The Sanctuary's advocates.
And there are these young men.
All are true champions for change. Their attitudes reaffirm that most men in Australia respect women and children and believe that the current culture of violence is unacceptable. And those who feel otherwise are discredited and put on notice.
Update 30/11 – I was asked to speak to Brisbane Breakfast FM radio 97.3 about this initiative for White Ribbon day. You may listen to this animated discussion here: