Guest post by Enlighten's Program Manager for South Australia, Jane Higgins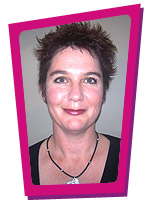 An article in the Adelaide's Advertiser on Saturday 20th September, 2008 sparked my interest.
Apparently a review of the Australian Textile, Clothing and Footwear Industries was released this week by the Federal Industry Minister, Kim Carr. The review recommend that $5 million be put towards developing a "consistent Australian sizing standard." They argue that women are frustrated by the discrepancy in sizing in different stores. Being a size16 myself, I find I can range in size anywhere from a 14 – 20 and it is annoying to be at the mercy of a label's decision of how to size their garments!
What is astounding, is that our clothing sizing has been based on the American research conducted by Berlei in 1926.
So much has changed since then including the size, lifestyle and habits of women. A National Size and Shape survey conducted by Henneberg and Veitch in 2004 involved taking 65 individual measurements from 1300 women and 100 men across the country, and was backed up by a study of 5000 people. It found that women today are up to 20% heavier than they were when the Berlei survey was done. Shock horror!! The average measurements of an Australian woman in the regular size range is now a 92cm bust, 74cm waist and 99cm hips, which fit a size 16 on the current Standards Australia garment rating. Further they found that the average woman in Adelaide was 77kg, and the women in Brisbane, 73kg. In fact Veitch goes onto say that 50% of Australian Women are not catered for with the present sizings .
According to this research, I am finally normal!!!! Will wonders never cease??!!
Some critics of the present sizings suggest we use numbers 1-5 as a new way of identifying our appropriate sizing. This week I went to a fashion parade of a big women's label that uses S, M, L but being a 16 is equal to a Small in their range. As a mature woman I have a different body shape to a 20 year old woman who is also a size 16. My boobs are saggier, my tummy is flabbier and I have fat stored in places I never knew existed.
Attempting to buy up to date fashion in my size is incredibility difficult. But my solution has always been to buy most of my wardrobe from op shops. What fun I have finding that barging that reflects who I am in an individual way. I am also aware that this constant buying is not only placing stress on our bank balances, our sense of ourselves but also the environment. Apparently it takes about 2700 litres of water to make one cotton T-shirt!!!!!!!!!!!
Another issue worth considering is the impact our "passion for fashion" may be having on the environment. A report from the Council of Textiles and Fashion Industries found we are becoming a nation that considers clothing to be disposable . It showed that in 2007, women under 30 bought 102 items of clothing a year, double that of women over 30. There are now concerns on where these cheap clothes go after women decide the garment's use-by date is up. Fuelling the high turnover of clothing is the new wave of fast-fashion stores that produce cheaper clothes flooding into stores every week.
Our worth cannot be measured by an arbiturary size. I am more than my size 16 – much bolder, bigger and fuller than a number could ever reflect! If a new sizing standard is to be introduced it must consider women of all ages, shapes and sizes – not just the antiquated cardboard cutouts from the past.
Now … I must write to Federal Industry Minister, Kim Carr and let him know I would develop a National sizing Standard for $4.9 million!!!
With love
Jane