At Enlighten we believe it's vital to not only help girls develop the tools to deconstruct toxic media and marketing messages, but also to offer them positive alternatives, so this year we've made an extra-special effort to provide girls with products that are inspiring and empowering. As we head into Christmas, I thought I'd profile these, and some other great gift alternatives created by amazing women. If you're like me and you think girls deserve better than what many retailers are offering — Playboy-branded bling, T-shirts with sexy slogans — then here are some other gift ideas for the girls in your life.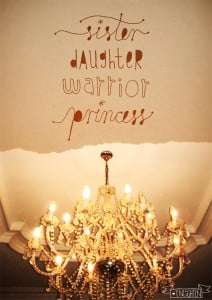 Girls of all ages (and their mums, too) are just loving the Enlighten posters we had custom designed, featuring gorgeous imagery and uplifting messages. Some girls like to cover their bedroom walls with all eight of the posters, which are only $5 each — you can check them out at Enlighten's website. I know a lot of people have had it with the commercialism of Christmas, and I agree that it shouldn't really be all about spending. So another way to treat girls is to download the posters for free as wallpaper for their mobiles; for that matter, treat yourself, too.
On our site you'll also find our free iPhone app, which each day features different inspiring quotes, self-affirming messages and web links to info that all girls should know — plus, it looks stunning! (We hope that one day in the future we will be able to roll it out for Android phones too.) For parents and people who work with teen girls, my book The Butterfly Effect: A positive new approach to raising happy, confident teen girls can make a great gift. (P.S. the girls' edition, The Girl with the Butterfly Tattoo, will be out in March next year, just in time for International Women's Day!)
 For Real GiRLS!, a fantastic new Australian magazine for ages 7 to 12, has just hit newsagents and Coles stores. It is the brainchild of designers Sonia Pereira
and Liz Purdue. Liz came to one of my parent seminars after her eldest daughter, Rachel, did an Enlighten workshop at Pymble Ladies College. The themes of my presentation struck home with Liz, who at the time was working on several girls' magazines, including Bratz and Barbie. Now the mother of three is working with a team of designers who are all mothers, producing a magazine that is a true alternative to the other magazines on offer for girls. There is no beauty, fashion, celebrity gossip or ads — oh, sweet relief. Her experience working on girls' magazines and reading the fan mail that came in convinced her that "girls don't really want to read a mag about celebrities and popstars (if they do they can access far more recent info for free on the net) and they are certainly not interested in makeup . . . they are far more focused on friendship than fashion!" This magazine will make girls and their parents equally happy. 
Another magazine concept, for girls aged 8 and up, is New Moon Girls, which combines a magazine and social networking site where all of the content is created by girls themselves — artwork, fiction, poetry, videos and more. There are no ads, and a year's subscription gives girls 6 issues of the printed magazine and access to the social networking site, which is fully moderated and designed to be educational and build self-esteem and positive body image. Nancy Gruver founded New Moon almost 20 years ago, inspired by her twin 11-year-old daughters. It is based in the US, but the magazine can be shipped to Australia, so an annual subscription can make a great present. If you want to check out the social networking site, you can sign up for a free 30-day trial.
If you've been trawling through the shops in the lead-up to Christmas, you might have been infuriated by some of the hyper-sexy clothes targeted at young girls. So check out Pigtail Pals, which is run by Melissa Atkins Wardy, a mum and entrepreneur who was fed up with the stereotypes found in children's clothing and wanted role models for her daughter that exemplified courage, intelligence and imagination. "Our motto is to 'Redefine Girly' and raise girls with the message they are smart, daring, and adventurous," according to Melissa. "Our designs show girls as doctors, astronauts, pilots, pirates, exploring the ocean, and playing with dinosaurs." They also have stationery, hats, tote bags and backpacks with positive messages for girls.
If you've been in the toy aisles lately, chances are it was just as infuriating. Perth woman Helen Schofield was looking for dolls for her granddaughters to play with and found herself asking, "Why do so many young girls seem to be enslaved by the need to be sexy at such an early age?" Rather than wring her hands in anguish at the poor choices on offer for girls, she decided to create a range of dolls herself. She and her husband risked their retirement funds and created Australian Girl, a range of five dolls that represent the lives of real Australian girls; the brand encourages self-acceptance and care for, and awareness of, others. Being a big reader ever since I was a child, I love the fact that the Australian Girl website encourages girls to make up stories about their dolls. The company even launched an adventure fiction book in which the dolls' characters travel back in time and discover things they never knew about Australian history and significant Australian women.
Do you know of any other positive, empowering gifts for girls? I'd love to hear about them.
Wishing you all a happy, peaceful — and girl-power! — Christmas.