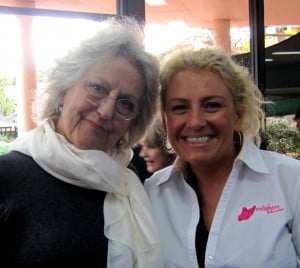 Enlighten Education sponsored the Alliance of Girls' Schools Australasian Biennial Conference, which was held last weekend on site at Ascham School, one of our long-term clients. I always enjoy these events as so many of our client schools are members of the Alliance and it is a delight reconnecting with all the educators we have developed such strong relationships with. This year's conference was particularly inspiring as there was a stellar line-up of speakers including Her Excellency Ms Quentin Bryce, Cheryl Kernot, Dale Spender, Andrew Martin and Germaine Greer.
Television host Andrew Denton once described Greer as  "not so much a human being as a force". I had expected her to be formidable and challenging, and she delivered. With a view to keeping the conversation alive, I want to share some of the points she made and pose some questions her sessions raised, which I believe are well worth wider discussion. Please, join in, either by commenting here or by taking these questions back to your staff rooms to discuss as a faculty. I have aimed my questions at educators, but they could be easily adapted and discussed amongst parent groups.
The Glass Ceiling
There is a current trend towards affirmative action policies that Greer does not believe will work. She fears that rather than truly addressing imbalances in power, they will only set up inexperienced women — who may not understand how the boys' club that is "the corporation" works — as "cannon fodder". She argues that this is what happened in England when the 1997 general election saw more women elected to the House of Commons than ever, yet many of the new female MPs grew disillusioned with the lifestyle of an MP. Nine of the so-called "Blair Babes" either chose not to stand or lost their seats in the 2001 general election. She also questioned why so many women seem to be opting out of leadership "just as they are most likely to be catapulted to the top due to affirmative action".
Instead of playing a "numbers game", Greer suggested we need to redesign democracy and build models of power that are more horizontal and truly inclusive.
What changes do you believe are necessary in order to encourage increased female participation at the leadership level?   
Greer expressed concern that girls, particularly in girls' schools, are primed to take on leadership roles but then when they leave school, they are faced with systematic boys' club rules that limit them. She fears there is a risk girls will feel guilty and internalise their inability to break through the glass ceiling.
Do you agree?  
Educating  Girls
Greer believes young women  judge each other more than men do. "Boys are more emotionally committed to each other," she said.
Is this your experience in working with young women? If so, how can this be challenged?  
Greer believes girls are far more anxious as students and fear making mistakes: "I say to my students, 'I don't mind if I don't agree with what you say, I just want you to have something to say!'" She talked about there being a "defect" in their self-confidence. Greer made the point that "as an economic driver, women's insecurities are a billion-dollar business" and cited the cosmetic and diet industries as examples of this. She believes schools should "liberate the voice" of girls. 
Does the fear of failure paralyse girls? If so, how can we create classrooms that encourage risk-taking?  
Greer lamented the trend towards raunch culture and overt sexuality as a type of liberation. She referred to the sexualisation of children as "generalised paedophilia".  She believes grown women are not visible enough in our culture: "We rarely see grown-up women who take up space."
If girls cannot be what they cannot see, is it more important than ever to seek out healthy alternative role models? How have you managed to achieve this at your school?
*Apologies to Ms Greer if I have inadvertently taken anything she said out of context. Do I sound anxious about making a mistake? Yes, when it comes to Germaine Greer, I am! She left clutching a copy of my book, The Butterfly Effect. I lay awake the next night fearing that it might arrive back in the mail covered in red pen corrections — but Ms Greer, at least I have dared to find my voice!