Our in-school programs

.
A program tailored to suit your girls, built from modules including: critically evaluating media and social messages about having a "perfect" body; reconnecting with core values and self-belief lost in adolescence; feminism; fashion labels and social labelling; managing money; study and workplace skills; personal safety; journal writing; stress management; and having healthy friendships... read more
A tailored half-day program made up of workshops from The Butterfly Effect extended program. This program works well as an introduction to school-based programs in Pastoral Care and Personal Development... read more
Helps girls identify and develop the skills employers want, produce a winning CV and prepare for job interviews. Reveals the value of emotional intelligence, good relationships with co-workers, and balancing right- and left-brain thinking... read more 
Equips girls making the transition from junior to secondary school with a survival kit of skills: time management, prioritising, creating a positive learning space, stress management and making successful new friendships... read more
Our awards

.
2014 - Dannielle Miller: Finalist for InStyle magazine's Women Of Style Awards in the Charity and Community category
2013 - Dannielle Miller announced as one of Australia's Top 40 Inspiring Women over 40 Change Makers by Prevention Australia magazine
2012 & 2013 - Dannielle Miller nominated for the Australian of the Year Awards (NSW Local Hero category)
2012 - Dannielle Miller: Australian Leadership Award
2011 & 2012 - Finalist - Australian Human Rights Commission, Business Award
2010 - Enlighten: Finalist, Australian Small Business Champion, Educational Services
2009 - Dannielle Miller named one of Sydney's Most Influential People by the(sydney)magazine (in The Sydney Morning Herald)
2009 - Dannielle Miller named Australia's No. 1 Emerging Leader in Learning by The Australian newspaper
2007 - Dannielle Miller named NSW Small Business Champion Entrepreneur
2007 - Enlighten: Australian Small Business Champion, Children's Services
From the blog

.
Fri, Nov 14, 2014
I've had the opportunity to contribute to, and write, some really interesting pieces for various media outlets this week. I want to share the highlights with you here. The always-wise Dr Karen Brooks unpacked the reluctance some (including our political leaders) have with the term "Feminist" here: Why is feminism such
...read more
Wed, Nov 05, 2014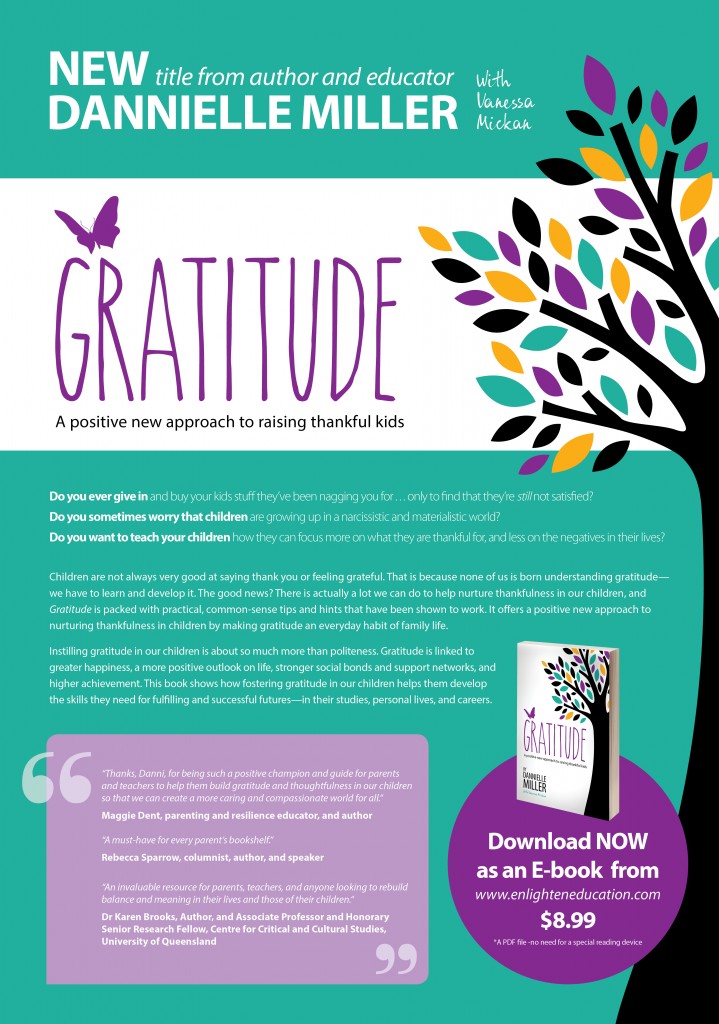 I'm incredibly excited to introduce you today to my fourth book. Gratitude – A positive new approach to raising thankful kids will be the first in a series I am writing for parents of kids of both genders, and of all ages. What prompted me to write this? So many parents
...read more
View All
Be inspired

.
Find us on Instagram